"It was three weeks to my wedding. I was enjoying sleep and all of a sudden I heard people shouting and ordered us to lie down flat in the middle of the road. I did not know what was happening. I came down and realized we have been attacked by armed robbers". These were the account of a young lady who took to a popular group (Tell It All ) on Facebook to recount her ordeal with armed robbers.
The young lady shared the sad story of how she was not spared by armed robbers three weeks to her wedding.
According to the young lady, she was traveling from Kumasi to Tamale and her bus was attacked by the armed robbers in the night.
She says the incident happened after a few-minute drive from Kintampo. According to her narration, she was fast asleep on the bus when she heard noise commanding them to come down from the bus immediately.
She instantly woke up and realized armed robbers had invaded the bus. According to her account, the armed robbers had a Fulani accent and asked them to lie flat on the floor in the middle of the road.
She says the day was one of the nightmares in her life when the armed robbers holding machetes lined all the passengers in the bus and started hitting them one after the other for their monies and other valuables.
She adds that the armed robbers went to the extent of even searching them in a bid to take all their phones and monies.
She adds that it eventually got to her turn and the armed robbers hit her with the cutlass and asked her to bring her money.
The young lady adds that she was holding GHC 200 at the time but decided to play smart.
"I immediately slipped my GHC 200 under my wig and I lied on my mobile phone. After one of them hit me with the cutlass, I told him his brother has already come for it. He then left me and went to the next person". She narrated.
The lady added that the armed robbers later released them and almost everyone in the bus started crying. Even though no one was hurt, the passengers were left in a state of shock since most of them had lost everything to the armed robbers.
Read her full post below :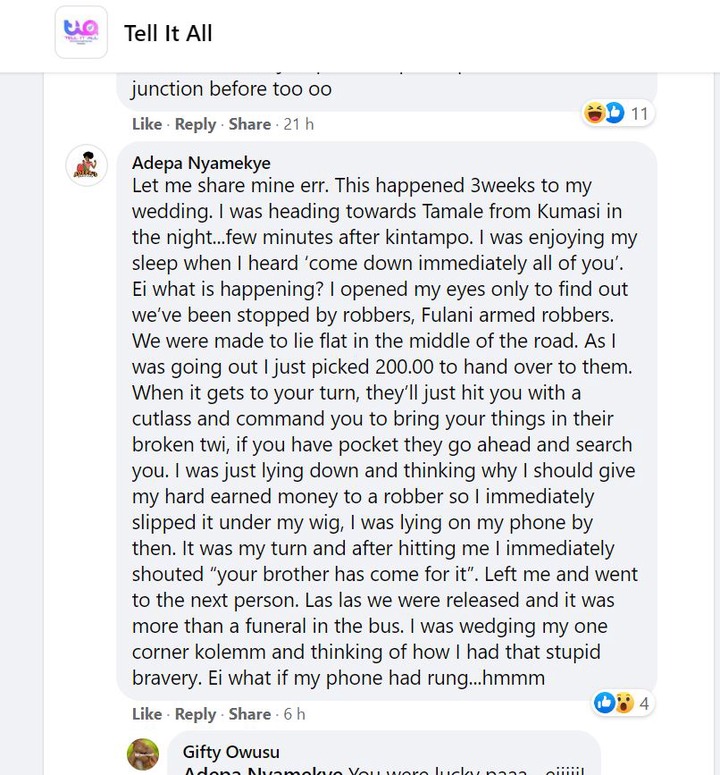 Content created by: BeaNana
Send your news stories to dannyboy744@gmail.com and via WhatsApp on +233 266777777