Prophecies can never come to an end as more Prophets are emerging everyday. African Men of God are known all over the world about their prophecies which almost all of them comes to pass.
Just recently, a popular Prophet in Ghana said God revealed to him that he will soon die. As if that was not enough, another doom prophecy pop up. 
A popular Ghanaian Man of God whose name has been identified as Prophet Reindolph Oduro Gyebi, on his Facebook page said that, God revealed to him that there's going to famine in the world.
His post reads: " There will be famine in the world. I saw a spirit in the form of fire moving across the borders of the world burning farmlands and properties and people were burnt in train accidents. Thunderstorm and lightning will be common, networks will cease working for some weeks."
He continued that, he wish he can say all that God show him and that the end is near. He claimed he is the eagle, the voice that cries.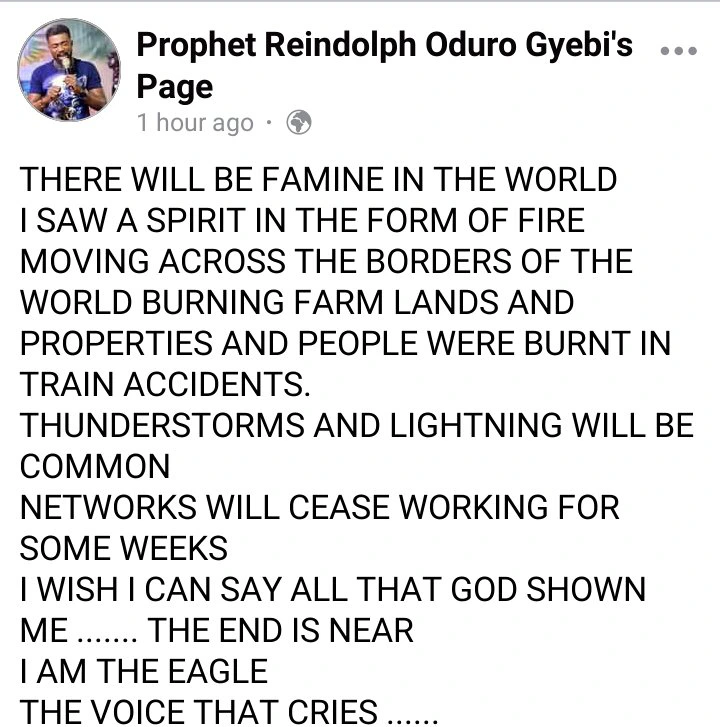 We all believe God speaks to his people through Prophets and Men of God, but will God allow famine and accidents to destroy the human race after the coronavirus pandemic which have already done enough harm to humans?
Let's hear your thoughts in the comments section below.
Content created by: Ghananews5
Send your news stories to dannyboy744@gmail.com and via WhatsApp on +233 266777777