Twene Jonas, the famous Loudmouth Social media critic had descended on Chiefs in Ghana for engaging in illegal mining popularly known as Galamsey. The US resident opined that any chief who sits unconcern for his lands and water bodies to be destroyed is truly not fit to be regarded as a chief. This and many more description to the traditional authorities didn't sound well to many in the Ashanti Kingdom who deemed his comments as insults against their king.
Deeply hurt individuals also decided to invoke curses on him. Matters seems to have taken a different twist and this time round a whole Nifahene, the chief who sits at the right side of Otumfuor Osei Tutu has issued a fierce warning to Twene Jonas and even indicated that the gentleman must start crying. He said "he must start crying because in the realms of the spirit, he is dead already. Nobody speaks against the King and goes scott free."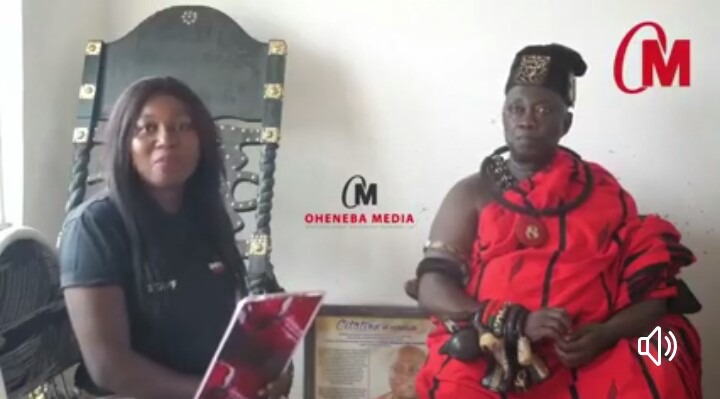 Nana Boakye Ababio who is seen in a red apparel indicated that its because of Twene Jonas that's why his attire is red. His appearance shows how furious he is. He continued by saying in the olden days he would have been beheaded with his family in addition. Anybody who insults the king must careful.
Anybody who knows the gentleman should tell him that if doesn't come to apologize within these few days ahead of him, he will never be the same again. The kind of strange disease that will infect and ill fate which will befall him will surprise him. He has touched the eyes of Sikadwa, the golden stool and evil awaits him. He concluded by saying that after God the greatest power on earth is Sikadwa.
What is your opinion? Do you think Twene Jonas will soon die if he doesn't apologize? Kindly leave your comments in the suggestion box.
You can watch the full video here.
Content created and supplied by: Zionthefighterexclusives
Send your news stories to dannyboy744@gmail.com and via WhatsApp on +233 266777777